Published January 13, 2016
The Spearhead of Reform & Beacon of Light in Kenya's Prison System
As a young woman from a humble background, Wanini Kireri never imagined she would become a respected leader of prison reform in Kenya's justice system. "My intention in life was to become an air hostess, but down the line, I found myself enlisted in the Kenyan prison service as a Cadet Officer, and I began empathizing with the inmates," shares Wanini. "I developed a passion for change, especially in the way prisoners were treated." In what is known as a notoriously corrupt justice system, Wanini is a beacon of light seeking to serve God and bring integrity into the system.
Wanini has since gotten her degree in Counseling and Psychology at Manchester University, and is now the Regional Prison Commander in Nairobi, Kenya. She is respected for her successful work in prison reform, but it hasn't been an easy task. "It was not easy to initiate any change in the early stages because of resistance from people who wanted to maintain a status quo," she shares. "The criminal system in Kenya needs more education for prison officers and inmates on attitude change and perception of their holistic personality in dealing with day to day life. Also, the rehabilitation programs were archaic and needed to be changed to be in line with the market outside the prison's wall."
Some of her challenges in initiating change included a lack of support and cooperation from officers and the government, lack of financial resources and a general fear of the unknown. "I had to deal with a lot of rejection," she explained. And as a woman, she shares that her leadership skills have been tested, "People have had a perception that I'll let them down, but I was able to cultivate self-esteem and confidence by believing in myself. I am proof to the Kenyans that women can also handle any responsibility and opportunities availed to them." Wanini audaciously seeks to become an expert in her work, and to one day to become the Commissioner General. She's already become the first female officer to head a male maximum facility of 2,400 inmates.
She presses on. "I stay encouraged by knowing that what I do in changing the lives of prisoners and their environments is a service to God. My service is to do good, move on and leave a legacy. As I serve my country, I will always have a little story to give. My faith has helped me trust in God for His divine power, press on in this world and comprehend the fact that each human being has the capacity of doing their best given their conducive environment. My biggest prayer right now is to see a smooth re-integration program of inmates back into society."
As a result of her efforts, she's been able to initiate and develop several programs in the prison system:
A forum of partnerships with criminal justice leaders to improve prison conditions, and initiate reform.
Remote Parenting, providing prisoners with opportunities to have unrestricted quality time with their family members. It is also a correctional and reform tool that uses a holistic approach meeting psychological, emotional and social needs, ultimately helping in rehabilitation and reintegration back into society.
Prison condition improvements including improved libraries, prayer facilities and living conditions.
A "best practice" concept in prison reform and rehabilitation adopted by institutions across the country, and incorporating international trends in reform, which includes:

Educational programs—School systems, language classes, computer training and a religious program called "Women of Peace and Men of Honor."
Beauty Pageants—Giving women inmates opportunities to build confidence and discover hidden talents, not only in modeling, but also in fashion design.
Creative Arts classes and Performance programs—Music, drama therapy and dance allows inmates to have an avenue to relieve psychological thoughts and stress.
Sports programs—Give inmates opportunities to work together in teams and compete against other prisons.
Her work is not in vain. What she's been able to accomplish is slowly, but surely transforming the prison system in Kenya. Though she's been recognized with multiple nationally recognized awards for her efforts, the lasting legacy she leaves is in the lives of the inmates and their families for generations to come.
Wanini learned about the GLS from her friend in charge of chaplaincy in the region. Knowing the impact great leadership can have on the prison system, she gathered 150 prison officers for their own GLS event last month. "The GLS helps me interact and compare notes with people who have been triumphant in their work in overcoming various challenges and how to achieve tremendous results," she explains. "The Summit is a very powerful tool for training in leadership. It enables participants to see things in a different light. I was gratefully blessed."
Thank you for making the Leadership Summit possible in places like Kenya. The GLS is encouraging leaders like Wanini as she passes on ideas, training, tools and encouragement to other leaders to continue to build up leadership integrity in her field.
We welcome and encourage comments on this site. There may be some instances where comments will need to be edited or removed, such as:
Comments deemed to be spam or solely promotional in nature
Comments not relevant to the topic
Comments containing profane, offensive, or abusive language
Anonymous comments
If you have any questions on the commenting policy, please let us know at heretoserve@globalleadership.org
Equip, encourage & inspire global leaders with a gift today
When you give to the Global Leadership Development Fund, your gift inspires and equips Christian leaders, facilitating transformation in some of the world's most challenging environments.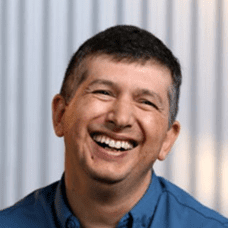 "Without your heart for giving, we could not have had the GLS in many countries like Bolivia, Ecuador, Cuba, Chile, Peru and others in the rest of Latin America."
Carlos Arroyo, South America